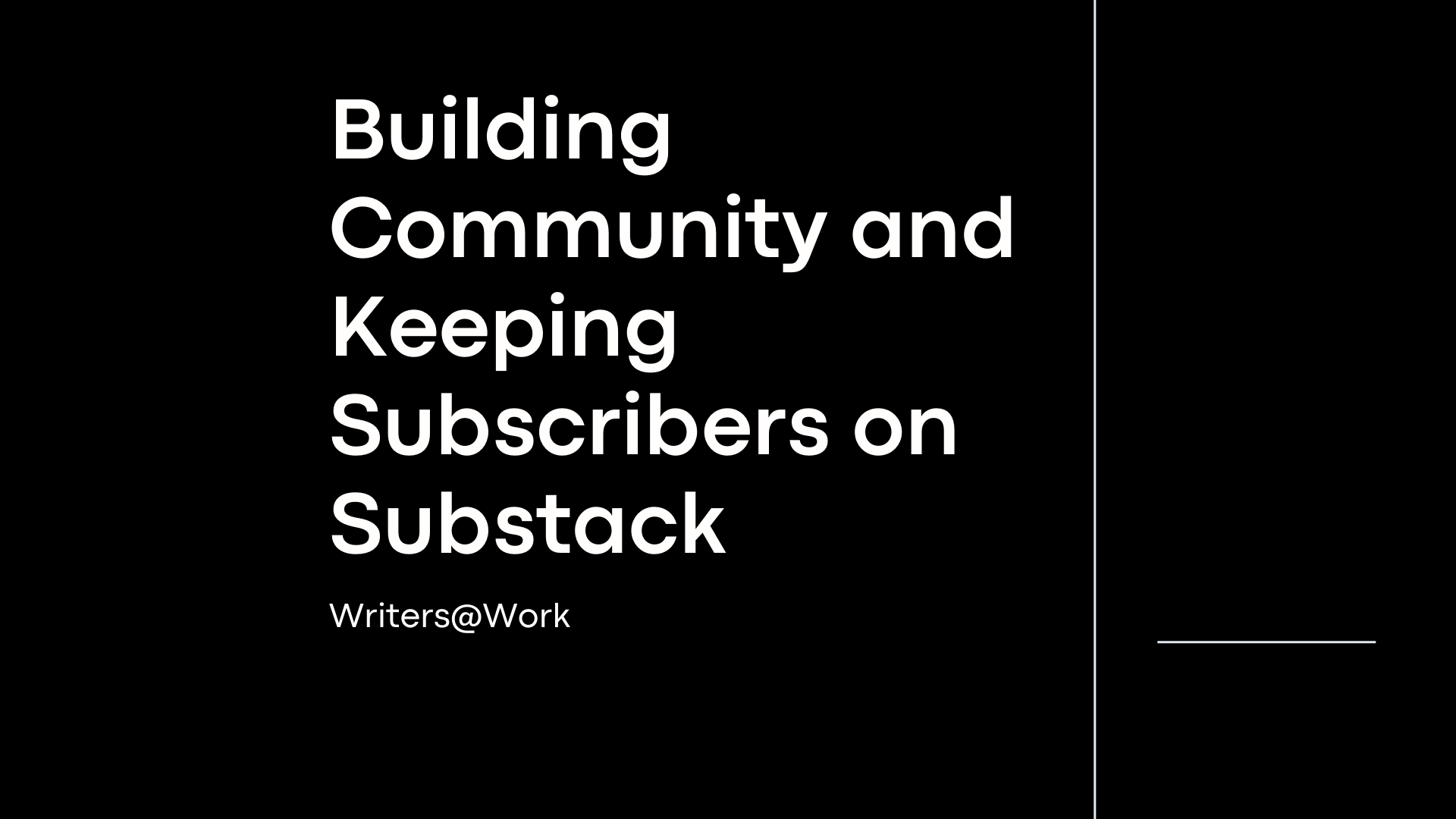 In this workshop, we stop focusing on "getting" subscribers and instead delve into keeping them.
Afterward, you will
understand what your subscribers want

use community-building principles

perfect your Welcome email

master the art of the discussion thread

get inspired by other Substack writers
→ Scroll down for the accompanying PDFs.
Note: In the presentation, the QR code to work with me 1-to-1 is incorrect. Here's the correct one:
---
In addition to all you get with a paid subscription to Writers at Work, full-access members also get the full library of workshops ($1200 value) to accelerate your growth.
→ If you prefer to watch and not subscribe, you can do so here:
---
What qualifies me to teach this workshop?
(You should ask this of everyone you work with!)
The guidance I give you is based directly on the advice Substack gave me. No marketing tricks. No gimmicks. 
I also share with you my experience as 
the creator of two bestselling, featured Substack publications (Writers at Work with Sarah Fay and Cured: The Memoir); 

a member of Substack's Product Lab; 

a freelance writer at The New York Times and elsewhere;

a former advisory editor at The Paris Review; and 

a creative writing professor at Northwestern University.
No one else has the relationship with Substack that I do and specializes in the unique nature of the platform, how it can be used to earn an income, and how it complements traditional publishing and all aspects of a writer's career.
---
Accelerate your growth with 1-to-1 Substack support

Book a meeting with Writers at Work with Sarah Fay
Schedule a meeting
This is the fastest and most effective way to stop flailing around on Substack and not getting traction. Book a meeting.

The writers I've worked with have

doubled and tripled their subscribers;

seen real engagement; and

become bestselling, featured Substacks.

Most importantly, they've discovered who they are on this platform and in their careers.

Book now or find out more here.
All workshops in the library, are available to full-access members
Full-access members also get everything in the monthly and annual paid subscription, including two live workshops each month, access to the members-only 24/7 Headline Help thread, discounted 1-to-1 support, and the full archive of exclusive posts to help you succeed on Substack and have the career you want.
→ NOTE: We do these workshops in good faith that people won't sign up for the link and then unsubscribe. We're here to build a community of writers who will come together to grow. If you prefer to purchase the workshop, you can do so here:
The full video is for subscribers in the Full-access members plan