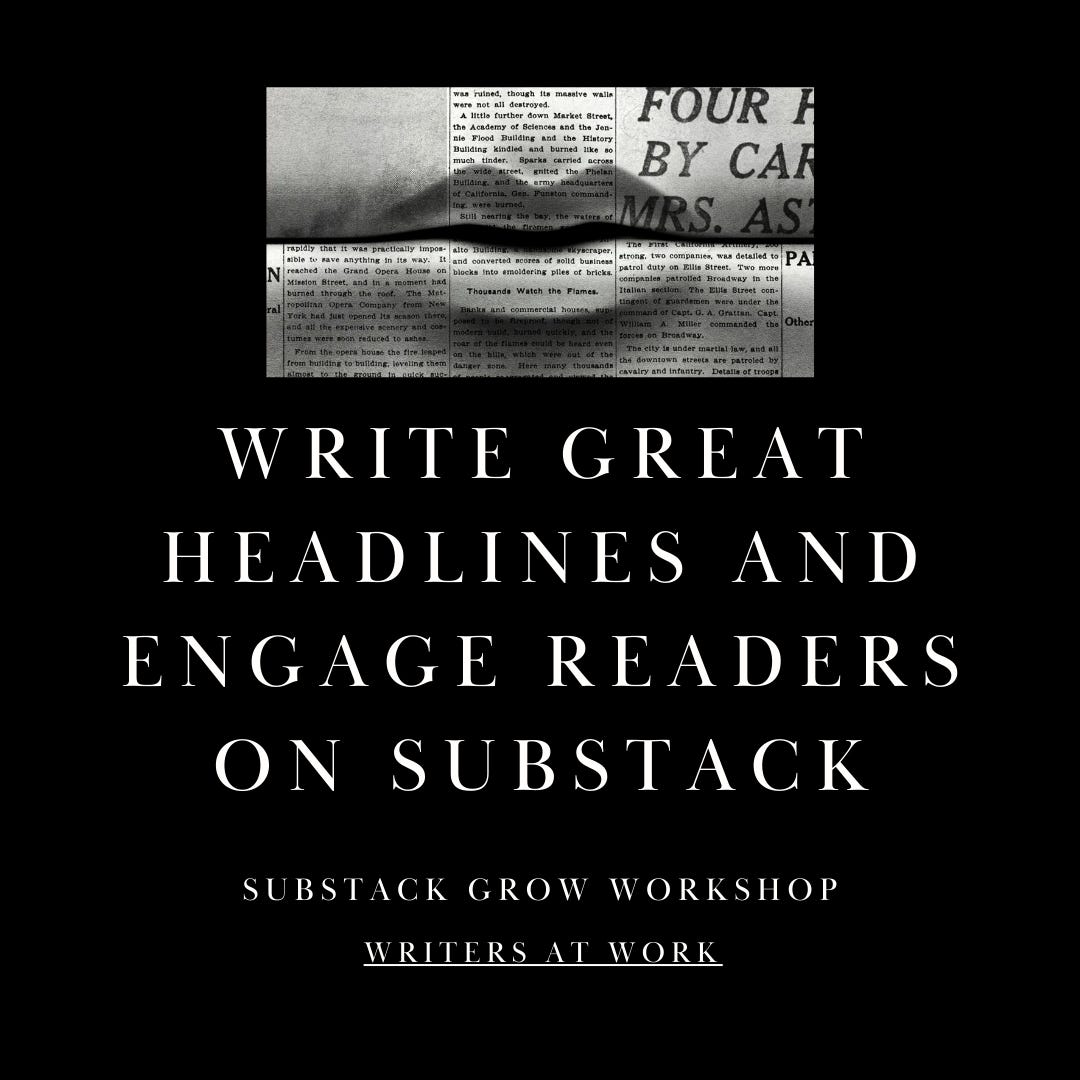 Headlines and subject lines are how the 30 million people on Substack decide whether to read us or not. If they don't read, they won't subscribe.
In this workshop, you'll learn
What makes a great

headline (on your site and in the app),

heading (within posts), and

subject line (in email);

How to write them to make people click, subscribe, pay to subscribe, and become loyal readers;

Why clickbait is so dead and what to do instead;

Why you shouldn't use Chat GPT;

How to train ChatGPT to write headlines that aren't awful—if you insist on using it;

Correct punctuation; and

Where to get feedback on your headlines.
What I teach you comes from journalists and editors at NPR, The New York Times, and the BBC.
You won't just passively take in this information; you're going to have time to practice on past posts and do it on upcoming posts.
The accompanying PDFs are below.
---
Note: In the presentation, the QR code to work with me 1-to-1 is incorrect. Here's the correct one:
---
In addition to all you get with a paid subscription to Writers at Work, full-access members also get the full library of workshops ($1200 value) to accelerate your growth.
→ If you prefer to watch and not subscribe, you can do so here:
---
What qualifies me to teach this workshop?
(You should ask this of everyone you work with!)
The guidance I give you is based directly on the advice Substack gave me. No marketing tricks. No gimmicks. 
I share with you my experience as the creator of two bestselling, featured Substack publications (Writers at Work with Sarah Fay and Cured: The Memoir); a member of Substack's Product Lab; an author at HarperCollins; a freelance writer at The New York Times and elsewhere; a former advisory editor at The Paris Review; a creative writing professor at Northwestern University; someone with a relationship with the Substack team and who loves all things Substack.
My purpose is to get all writers and creatives on Substack making a living, so we have the agency over our careers that we deserve.
---
Get 1-to-1 Substack support to accelerate your growth
If your Substack feels stagnant or you're overwhelmed, this is the most effective way to focus your Substack, gain confidence, and get subscribers. No tricks. No gimmicky "hacks." Just you, your Substack, and real guidance on how to succeed—all based on the advice Substack gave me.
Book and find out more here:
The full video is for subscribers in the Full-access members plan